Countdown to Renovation of Rockwood Golf Course
Rockwood Golf Course will undergo a total golf course renovation with construction anticipated to begin November 1, 2015. We're excited about this much needed improvement and hope you enjoy our "countdown clock". The course will receive a new design with the course yardage measuring 5,291 to 7,067 yards. Included in the project are new greens, tees, fairways, bunkers, cart paths, water features and a state of the art and highly efficient irrigation system. We have enlisted the design services of Colligan Golf Design and special attention has been taken to insure that the layout design will be attractive to all skill levels of players. The course will be both challenging and fair.
Once construction begins, a special page will be available for viewing of construction pictures. The anticipated re-opening date for the new course is October 1, 2016. Stay tuned for further updates as they become available. Click layout to view the new design.
Fort Worth Golf offers the golfer a quality, enjoyable, safe and comprehensive golf program through four municipally owned golf courses, promoting golf as a lifetime sport. Each course has a unique layout and is designed to challenge every level of skill. The City provides facilities to promote golf skills, individual and group lessons, organizational services for tournaments, support for golf associations based at each course with the opportunity for tournament play on a regular basis.
Feel free to contact us with your questions or comments!
Bryan Winnett Captures 2015 Super Senior Championship
Bryan Winnett (147) held a 2 shot lead going into the final 18 holes of the 2015 Super Senior Championshp and was able to hold on to win this year's evnet by one shot over defending champion Lupe Montero, Jr (148). Finishing in third place with a 36 hole total of 50 was Robert Chandler and Rudy Flores. The 1st flight was won by Alan Luedke (152) by one shot over James Wohlgemuth (153); Jalil Daneshfar (152) won the 2nd flight with Thomas Thompson, Kenneth Clayton Pitts and Tom Gunning finishing second (163); 3rd flight was captured by Anthony Sahagun (169) by two shots over Lary Bullard (171) and the 4th flight (net) was won by Gerald Parks (143) over Jerry Lee Wright (146). Congratulations to all the flight winners and thanks to everyone that competed in this years event held at Pecan Valley. Click here to view final results.
2015 CFW Men's Flight Champions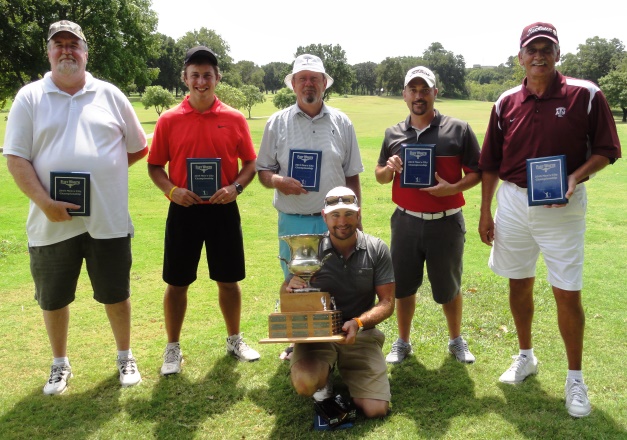 Left to Right (standing): Jeff Russell - 5th; Alec Mullarkey - 4th; Carson Bullard - 3rd; Steven Hooker - 2nd; Zeke Zietak - 1st
Kneeling: 2015 Champion Colby Amparan
Congratulations to Colby Amparan (-4) as he captured the 2015 Men's City Championship with a three shot win over Jaime Scmitt (-1). Low round of the day belonged to defending champion, John Bearrie who fired a 64 and took third place. Colby began the final round one shot behind first round leader Tom Takes. This is Colby's the first year to capture the City Championship. A total of 132 players in six flights teed it up in this year's 36 hole stroke play event. Congrats to the following winners of their respective flights: Zeke Zietek (1st Flight); Steven Hooker (2nd Flight); Carson Bullard (3rd Flight); Alec Mullarkey (4th Flight) and Jeff Russell (5th Flight). To view all competitors' scores by flight click here.

Men's Super Senior Final Results

Men's Senior Championship Final Results



2015 City of Fort Worth Two Person Best Ball
Congrats to Jim Quinn and Bob Neal for firing a two day total of 131 and capturing the Championship Flight by one shot over Mike Schille and his partner Mark Crisco.Jeff Cates and Neil Silverwise captured Low Net honors (127). Don Akins and Phillip Benson took 1st Low Gross in the First Flight with a two day total of 137; Shawn Holub and Juan Herreros captured low net honors with a 125. First low gross in the Second Flight was the team of Ian Gregory and Robert Mathys (148) and low net was won by Jeff Russell and Chris Sova (122). Thanks to everyone that participated. To view all winners names by flight please click here.
Mid-Day Rates Roll Back One Hour
Due to the higher temperatures we've rolled back the start time for the mid-day rate to 11am instead of 1pm and our evening rate from 4pm to 3pm.
Lewis Stephenson Captures 2015 CFW Mid Amateur Championship - Click here to read more.
For full scoreboard click here.
Sign Up Now for FWJGT Events
Fort Worth Junior Golf Tour Events are open to all tour members. Annual membership fee is $20 and entry fee for each event is $15 per play. Boy and Girl flights are divided into the following age groups: 7-9 & 10-12 and 13-15 & 16-18. Ages 7-12 play 9 hole events and ages 13-18 18 holes. To sign up as a member please contact John Eubanks at 817-249-1845. To register for our upcoming events in June please click below.
June 15 - Individual Event - Meadowbrook GC - Results
June 29 - Individual Event - Sycamore Creek GC - Results & Winners with Pictures
August 12 - Individual Shootout Event - The River's Edge - Results
August 5 - Individual Event - Meadowbrook - 9 Hole Results & 18 Hole Results & Winners with Pics
FWJGT Updates
To view points standings click here.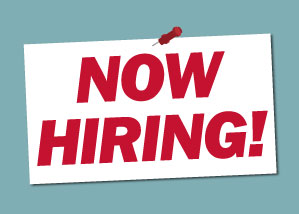 We currently have part-time openings for Maintenance Workers, Snack Bar Attendents and Golf Cart Attendents. If interested please call 817-392-5721 to discuss job location, description and how to apply. Must be flexible with hours, enjoy working with the public and dependable.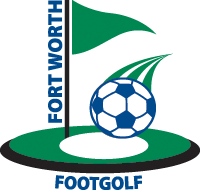 "The River's Edge" @ Rockwood
This innovative practice course can be played as either a 3 hole or 6 hole course. How do you know on a daily basis which course you would be playing? If it's an even numbered date of the month then it's a 6 hole par 3 course and if it's an odd numbered date of the month then it's the 3 hole course which consists of 2 par 4's and 1 par 3. Cost to play the course is $6 for juniors and $10 for adults. The fee is good for all day so if you want to play a few holes in the morning and then come back in the evening, just hang onto your receipt and that'll be your voucher to get back on the course. And remember, this is a "walking only" golf course; sorry no carts. And what if you want to play the course after your play our regular 18 hole course...then your fee is 1/2 price or $5 for adults and $3 for juniors. If you have any other questions..give our staff at Rockwood a call at 817-624-1771.
Fort Worth Golf Offers Various Annual Pass Options
We offer several annual passes that allow unlimited green fees. The passes can be purchased at any of our four locations and are valid for one year from date of purchase. All passes are for access to our four locations (five courses). Below are the detailed options.

Junior: Must by 17 or younger, allows play anytime during weekdays and valid on weekends/holidays once the mid-day rates are in effect. Usage fee of $2 is required at all courses with exception of the River at Pecan Valley which is $5. Cost of this pass is $125.
Senior: Must be 62 or older, and has the same restrictions as listed within the junior pass details. Cost of this pass is $400. Cart is not included.
Individual: No age restrictions, no restrictions on days or times of the week you are eligible to play. Must pay the $2 or $5(Pecan Valley River course) usage fee for each round played. Cart is not included.
Family: Primary pass holder, spouse/partner and up to two children 17 or younger; all must share same residence. May be required to show ID and/or proof of address. Carts are not included and $2 and $5 fee per person as described in the individual pass info is required. Cost of this pass is $1,029.
Platinum: Includes unlimited green fees, cart usage and practice balls for Platinum pass holders only. No usage fee is required. Cost of this pass is $1,800 and covers your golf for one year from date of purchase.
9 Hole Rates Offered at City of Fort Worth Courses
Nine holes rates are offered at all City of Fort Worth golf courses. So, if you don't have time for 18 we've got a great rate for your two hour time slot for golf. These rates are great for early morning weekends and holidays where our back nine is available for play. So come on out and play nine holes with us soon!
Family Golf Special
Seven days a week, beginning 2.5 hours before dark, Fort Worth Golf offers a special rate for up to four (4) family members (2 adults and 2 juniors or 1 adult and 3 juniors) for $25.00. If two adults are playing this special includes two carts; if only one adult is playing then one golf cart is issued. This program is our way of getting families on the golf course to spend quality time together playing the game of a lifetime. Juniors are 17 years of age and younger and must be included in the group. No more than 2 adults allowed per group. For more information on this special contact any of our five facilities.